25 August - Genocide Remembrance Day Exhibition
---
Exhibition in Newcastle commemorating the 5th anniversary of Rohingya Genocide Remembrance Day
On 25 August 2022, Rohingya Action North East marked the 5th Anniversary of the Rohingya Genocide Remembrance Day by holding an exhibition of photographs taken by Rohingya refugees in the camps of Bangladesh.
The exhibiting photographers were Zahangir Alam, Haider Ali, Salim Ullah Armany, Mohammed Hossain, Noor Hossain, Mainul Islam, Abul Kalam, Mohammed Salim Khan, Abdul Monaf and one photographer who wishes to remain anonymous.
Former Lord Mayor of Newcastle Habib Rahman opened the proceedings and donated a cheque of £500 for the 10 photographers to share. He was followed by RANE Trustees Ann Schofield and Henna Ahmed and two Rohingya teenagers who are now settled in Newcastle - Amna Amir Hossain and Amani Amir Hossain. Peter Saggar addressed the situation in Myanmar. Ann Schofield and Henna Ahmed emphasised the critical need for providing support to refugee women in the camps.
Also attending were members of Amnesty International from Newcastle and Sunderland, members from the Unison and Unite trade unions & Bill Corcoran of the Tyneside Irish Centre. Newcastle Councillors Abdul Samad and Dr Juna Sathian were in attendance.
Shafiur Rahman, the curator of the exhibition, thanked Habib Rahman for showcasing the work of Rohingya photographers and RANE's generous donation. He then gave a short speech about his experiences at the Bangladesh/Myanmar border in 2017 and a brief overview of the photographs in the exhibition.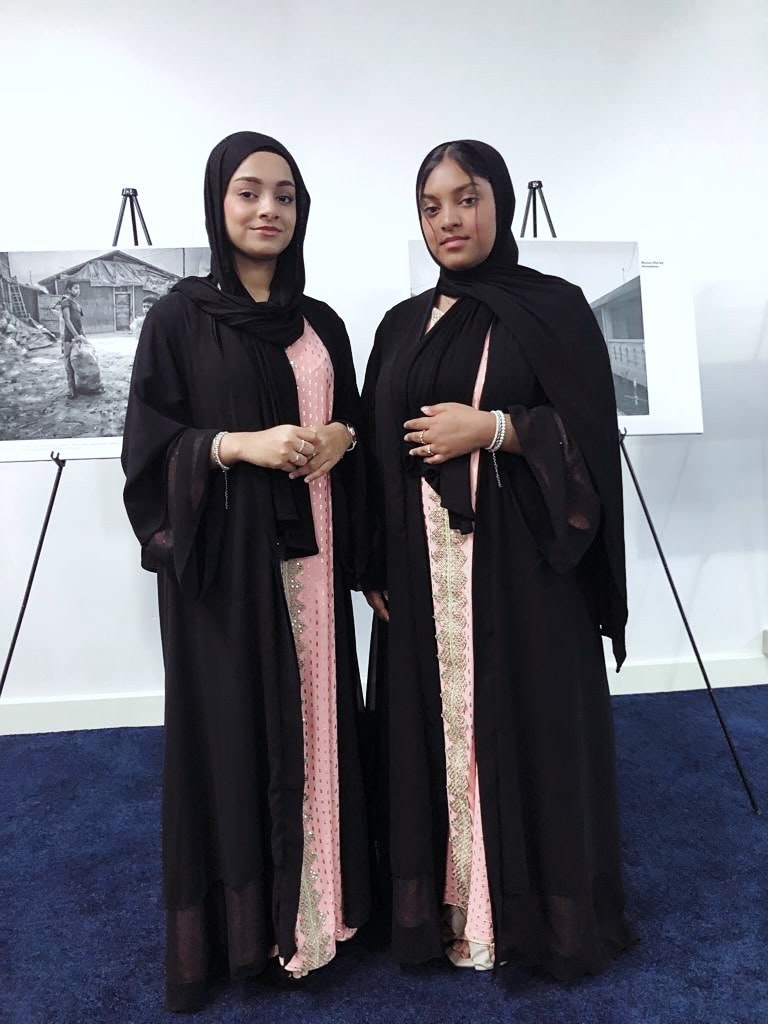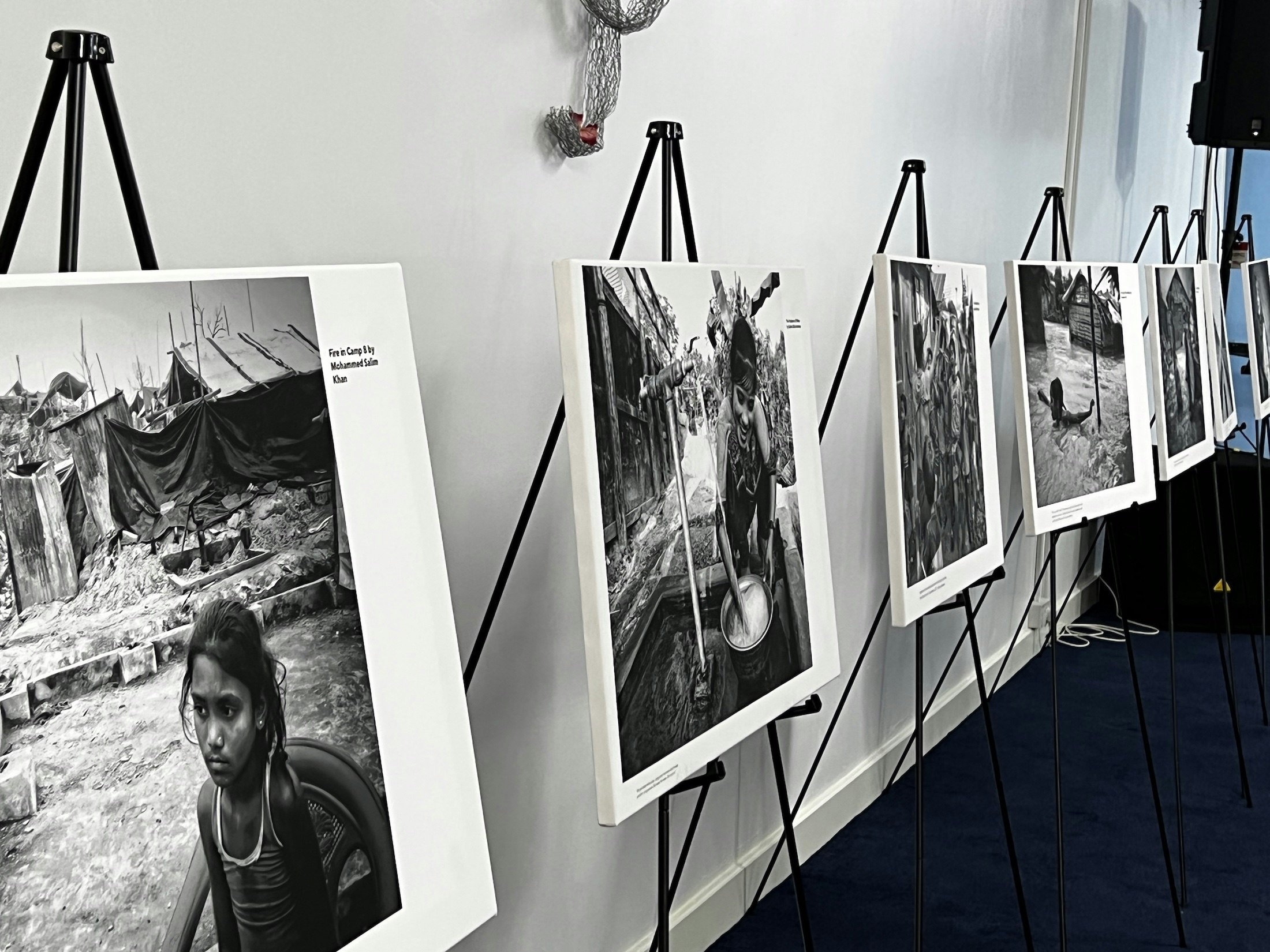 The exhibition consisted of 14 images by 10 Rohingya photographers. Shafiur Rahman said:
"This collection of photographs by Rohingya refugees is very different from the usual media depiction of Rohingya in Bangladesh. Photographs in the media reduce the complexity of refugee life, and deliberately emphasise negative profiling. There is a persistent strategy to attribute unfavourable characteristics to the Rohingya and to explicitly and implicitly suggest that they are socially undesirable and a burden. In the 5 years since 2017, an image landscape has been created which is hostile and bears little relationship to the ground realities of refugee life. In short, the media portrayal of the Rohingya in Bangladesh feeds the politics of hate and exclusion.
....In this collection the Rohingya photographers have been able to exercise their choice about what to portray and how to portray it. Their photographs reflect their emotions, their memories, their challenges and even their interests. There is daring, and there is risk taking. One of the photographers in this exhibition has been locked up in jail. Another one was interrogated for 9 hours and beaten. Several have had their phones checked and/or confiscated. One was made to do sit ups because the Armed Police Battalion officer in the camps found something he didn't like in the photographer's phone...."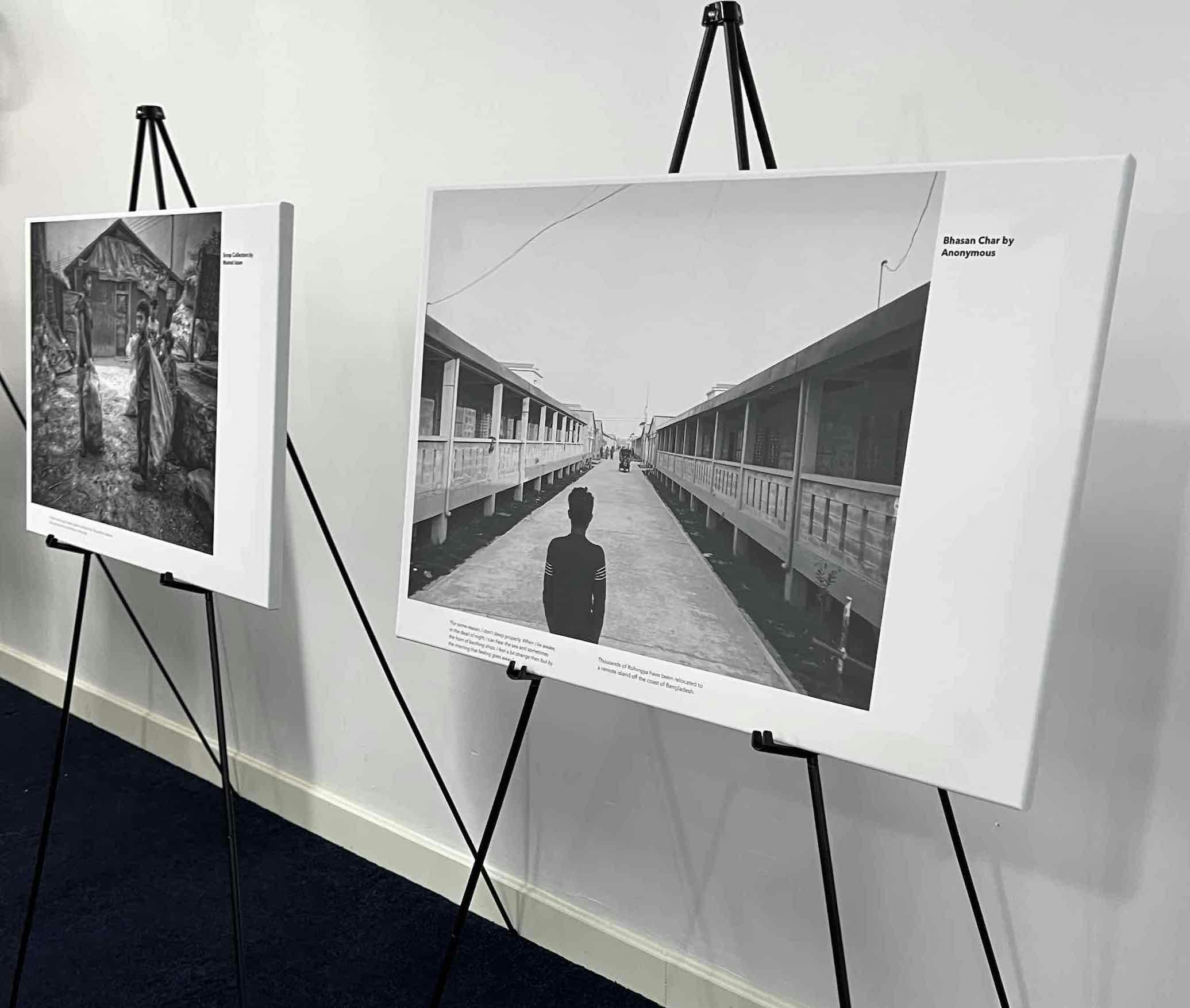 RANE has previously held an online exhibition of photos by Rohingya photographers to mark Holocaust Remembrance Day.

---
created: 26 August 2022. In the interests of transparency Shafiur Rahman's train fare only was paid by RANE.